Increase data visibility, automate tasks, and reduce costs across your
entire enterprise

.
Grain Management
Multi-site inventory visibility
Centrally managed aeration protocols
Remotely automate grain bin aeration
Fertilizer Management
Multi-site inventory across types and vessels
Coordinated delivery operations
Visibility into load times and durations
Feed Management
Technology-enabled, keep-full services
Plan ahead & reduce overtime
Reduce redundant labor with more efficient delivery systems
Mobile Asset Management
Locate and learn insights on mobile inventories
Manage producers holding assets
Improve asset utilization
Activity Monitoring
Make pumps, fans, and motors "smart"
Visualize inventory movement trends
Alert on movement
Delivery Logistics
Confirm deliveries
Generate audit trails for loads
Dramatically reduce scale house labor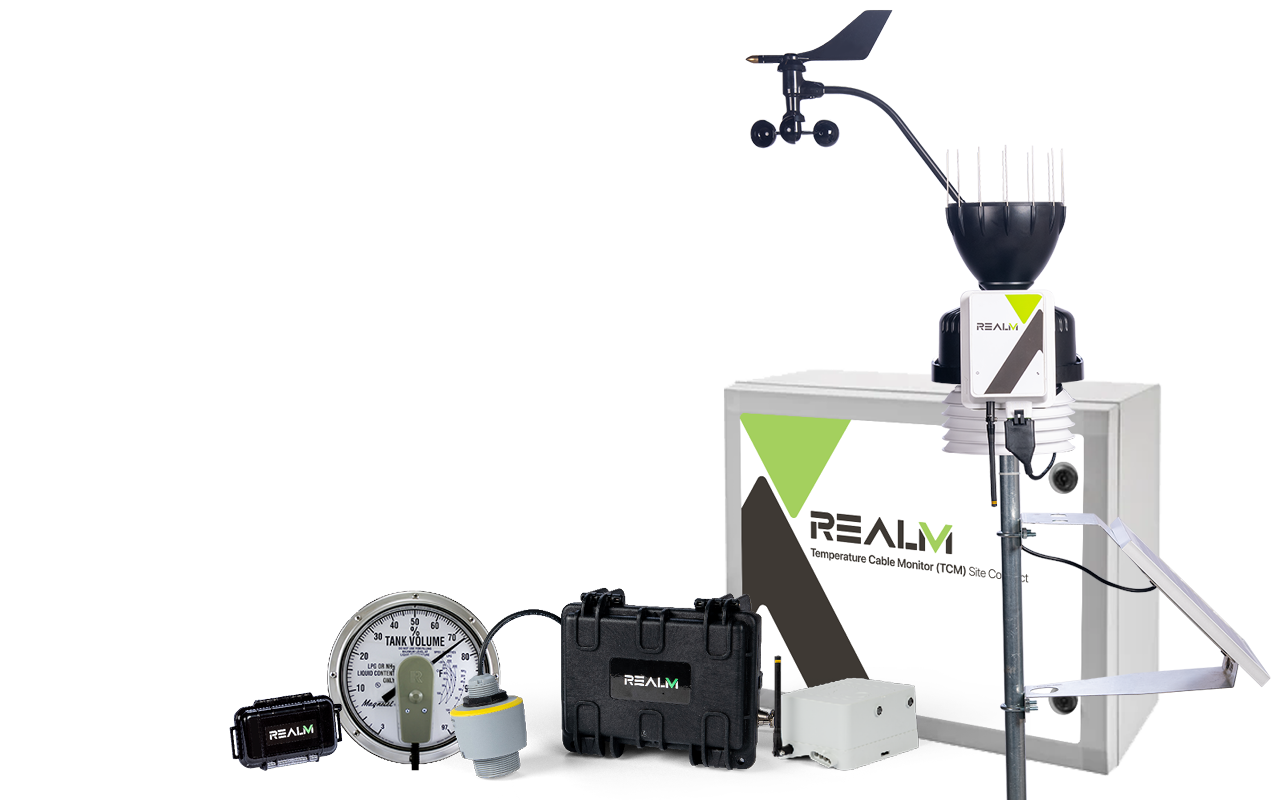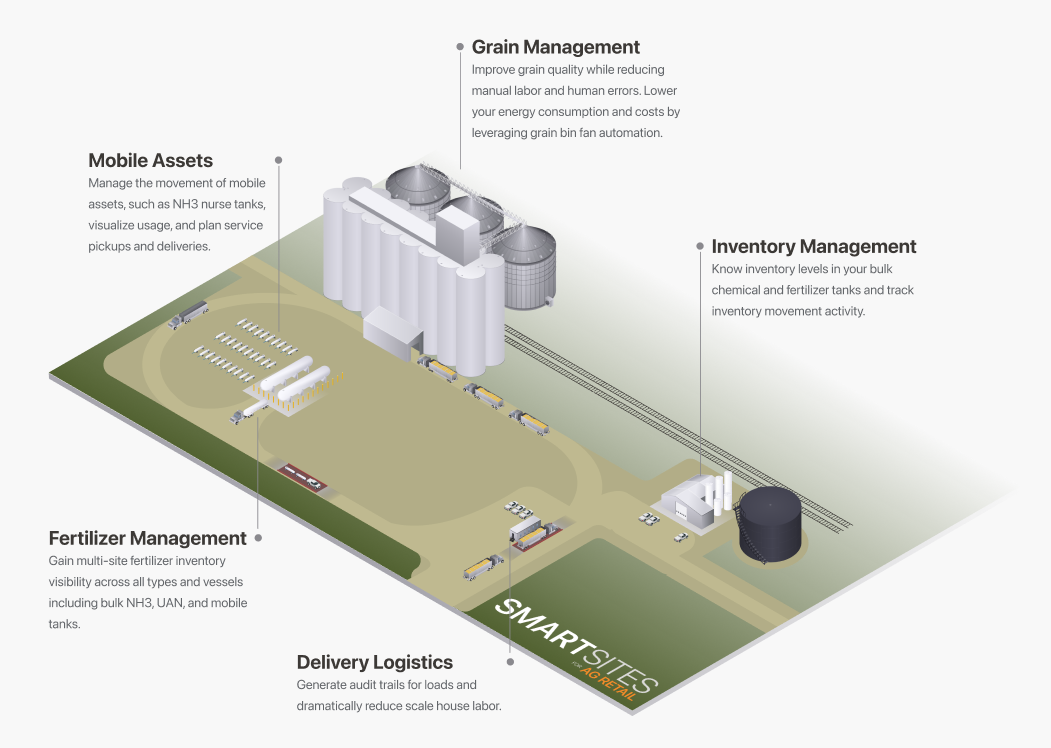 SMARTSITES

Solutions

Find the solutions that fit your needs to service your customers and members with excellence.
Grain Management
Keep tabs on grain temperatures throughout bins and silos using existing infrastructure. Manually or automatically control bin fans to keep grain in optimal conditions based on time and environmental data.
Learn More
Inventory Management
Digitize your supply chain with inventory visibility to your liquid fertilizer and chemical tanks, anhydrous bullets, grain bins, feed bins, flat storage, and covered bunkers for improved purchasing and delivery scheduling.
Learn More
Mobile Asset Management
Make calling members in hopes to see if they have a mobile tank ready for pick up a thing of the past. Easily locate mobile assets and view recent activity to help coordinate returns for refill to service your customers efficiently.
Climate and Environment
Get hyperlocal weather and environmental data for deciding if your sprayer team should go out for applications or understanding the impact weather will have on scheduled deliveries or shipments.
Activity Management
Get accurate motor and pump runtimes, flow meter volumes, outages, and time overages. Know which equipment is currently running or inactive, view historical usage data, and receive outage notifications.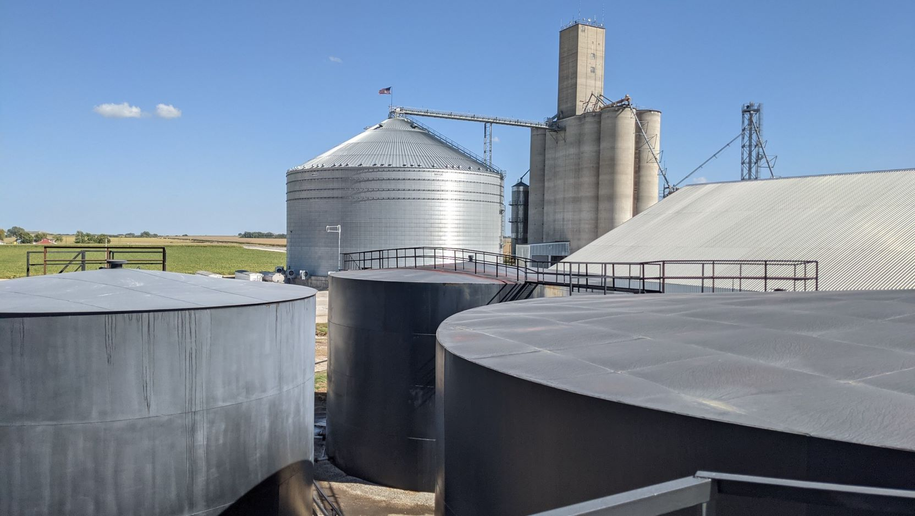 Upgrade

vs. Replace

We extend the life of your existing infrastructure by integrating with or retrofitting your grain bins, feed bins, liquid tanks, anhydrous bullets, flat storage, covered bunkers, truck scales, and mobile equipment using a variety of sensors, devices, and software to bring them into the digital age.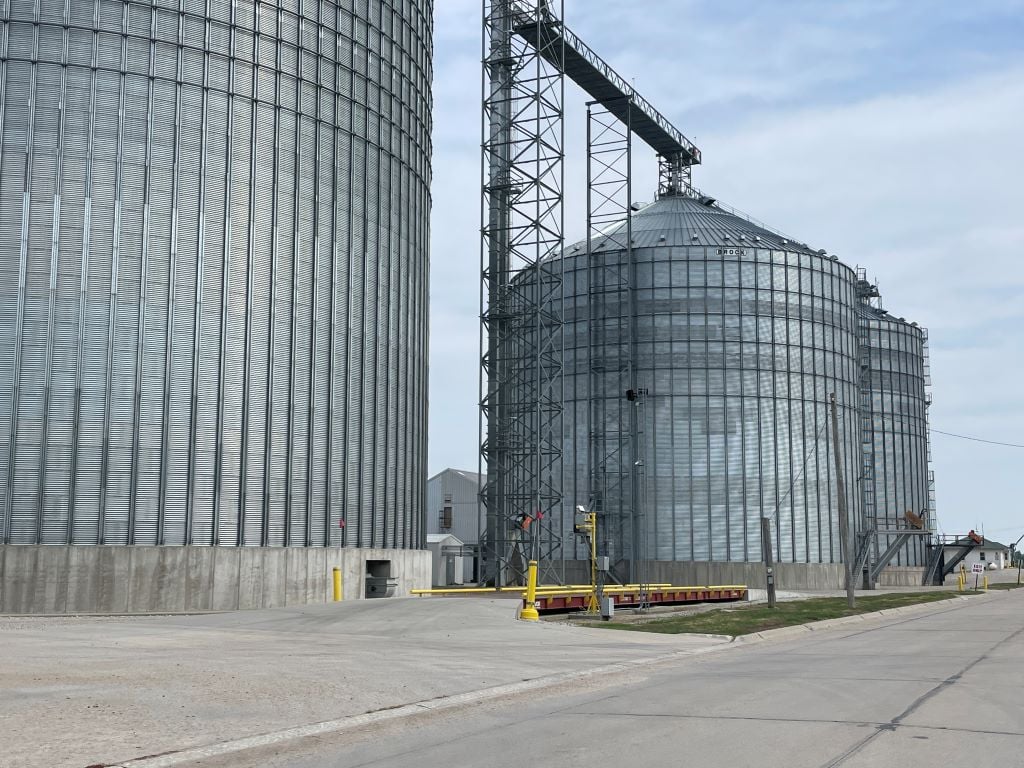 Grain

Management

Operate your grain facilities more efficiently. Improve grain quality by centrally managing parameters and reduce manual labor and human errors. Lower your energy consumption and costs by leveraging grain bin fan automation.

Learn More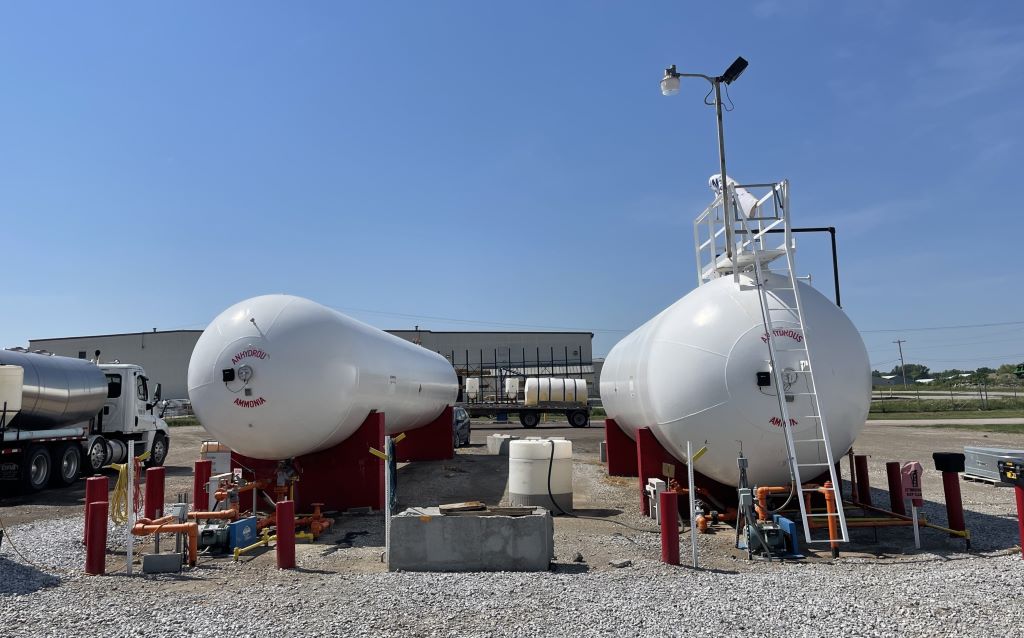 Fertilizer

Management

Your ERP inventory isn't always right. Access all your measured inventory data in one place. Our comprehensive solution gives visibility to dry bay fertilizer inventories, anhydrous ammonia (NH3), and liquid fertilizer (UAN) tank levels. Keep track of your mobile tanks and manage truck deliveries in season.

Learn More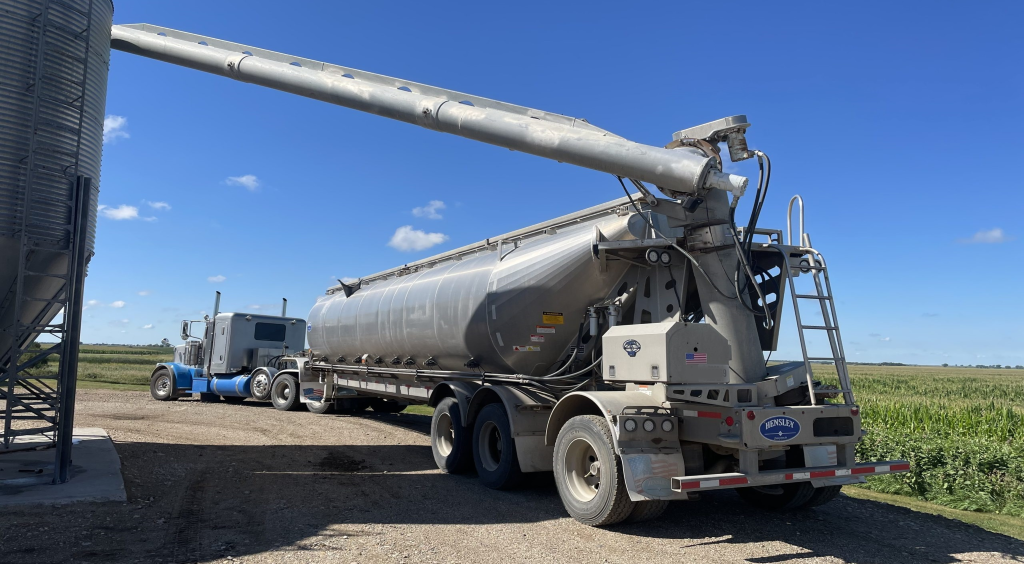 Feed

Management

Our technology will help increase customers retention and deliver results. Reduce labor by planning ahead and pay less overtime with fewer weekend deliveries. Increase employee safety and minimize the risk of accidents and injuries by eliminating the need for truck drivers climbing feed bins. Your customers want feed to be there. Give your customers no reason to shop around.
Don't just take
our word

for it

Hear what some of our customers have to say
I worked with RealmFive during several years at BI. During that time I found RealmFive to be very collaborative with a strong partnership mindset, easy to work with, creative at solving problems, and good at delivering to its commitments. Steve, Brant, and team were great professionals, good communicators and were a pleasure to work with. I wish them much success continuing to grow RealmFive.

Dr. Jens Kjaer
Boehringer Ingelheim/ Retired Director of Integrated Health Management, Swine
I had been looking for more efficient opportunities to track grain quality at all of our locations instead of relying on someone to physically go check their bins when everyone is busy. We've worked with others in the past but weren't able to come up with a viable solution that solved our challenges. RealmFive heard our needs and delivered a scalable solution to automate the fans across our commercial grain bins, as well as centralizing anhydrous ammonia inventory across our organization.

Craig Schultz
Frontier Cooperative/ Chief Operating Officer
Within a few months of meeting, RealmFive was able to deliver a solution that provided me with a continuity plan. In the meantime, RealmFive has proven to offer reliable products and excellent customer service. In fact, the customer service offered by RealmFive has been the best I have experienced in my career.

Ryan Hutchison
South Country Equipment/ Integrated Solutions Manager
We have enjoyed a valuable collaboration with RealmFive since we first started working together in 2019. Our team is impressed with their knowledge of the dairy industry's needs and their ability to deliver results. Through our Farm Supplies staff, we are excited to offer leading technology from RealmFive to our farmer-owners.

Matt Musselman
Dairy Farmers of America/ Chief Operating Officer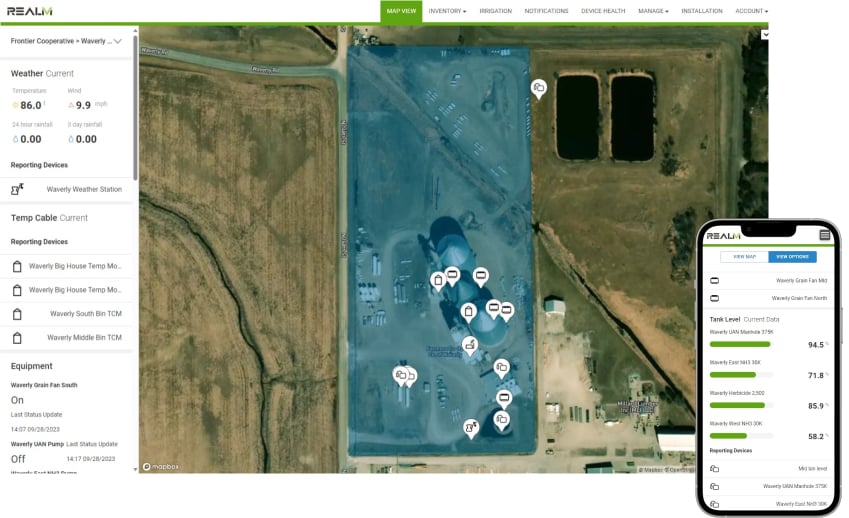 Intuitive

software

Quickly view your data and be notified of issues at the office or on the go with our RealmFive View cloud application.
Data Visualization

View charts, gauges, and visualizations based on current and historical data

Alert Notifications

Be made aware of when a problem arises or clears based on thresholds

Data Security

Your data is securely stored in the cloud with managed user access and permissions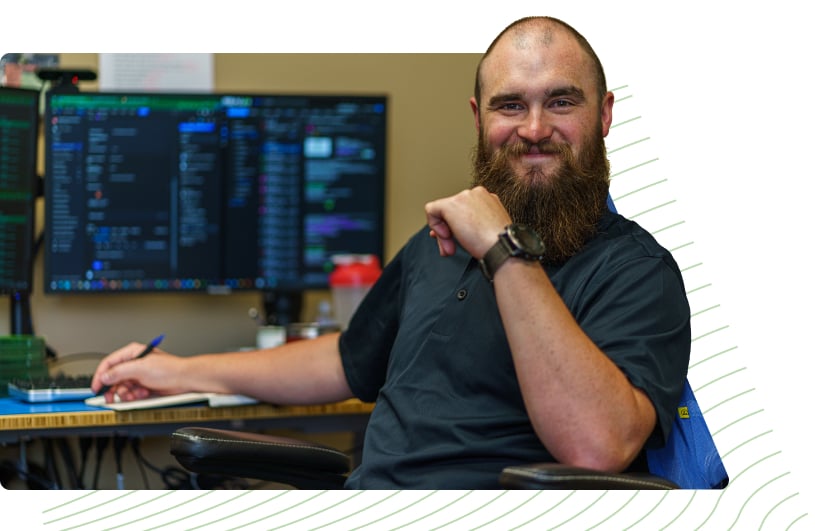 Proactive

Support

Our Customer Support team's top priority is to ensure continuity. RealmFive SMARTSITES include monitoring systems, troubleshooting, and continuous warranty. Our team also can provide installations, training, and site visits.